So how did these students feel after an immersive week at the National Indigenous Business Summer School?
The Australian Business Deans Council is committed to raising the participation rate of Aboriginal and Torres Strait Islanders in Australian university business schools. ABDC President, Professor David Grant, discusses why. Since this interview a third National Indigenous Business Summer School (NIBSS) has been held in Melbourne and, for the first time in WA, one was held in Perth in 2020.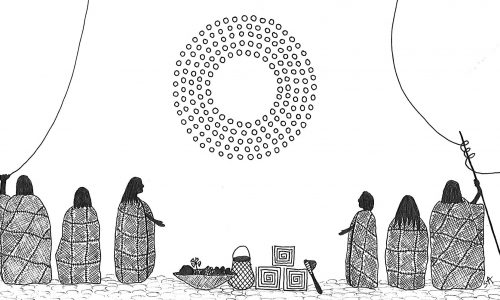 The Currency of Country, ink on paper, 2017 ©Shawana Andrews 
The people come together to trade and share. They are dressed in possum skin cloaks and have a basket of ochre, berries, yams and eggs to exchange. There is also an axe of stone and timber to be traded. The squares represent the shared knowledge built over generations of cultural memory. The people are connected with a songline and they look to the ancestors to learn and maintain culture.