https://www.theaustralian.com.au/nation/evonne-goolagong-cawleys-life-message-education-and-dreams-time/news-story/f54e62141030197192a3376757dea5da
Evonne Goolagong Cawley's life message: education and dreams time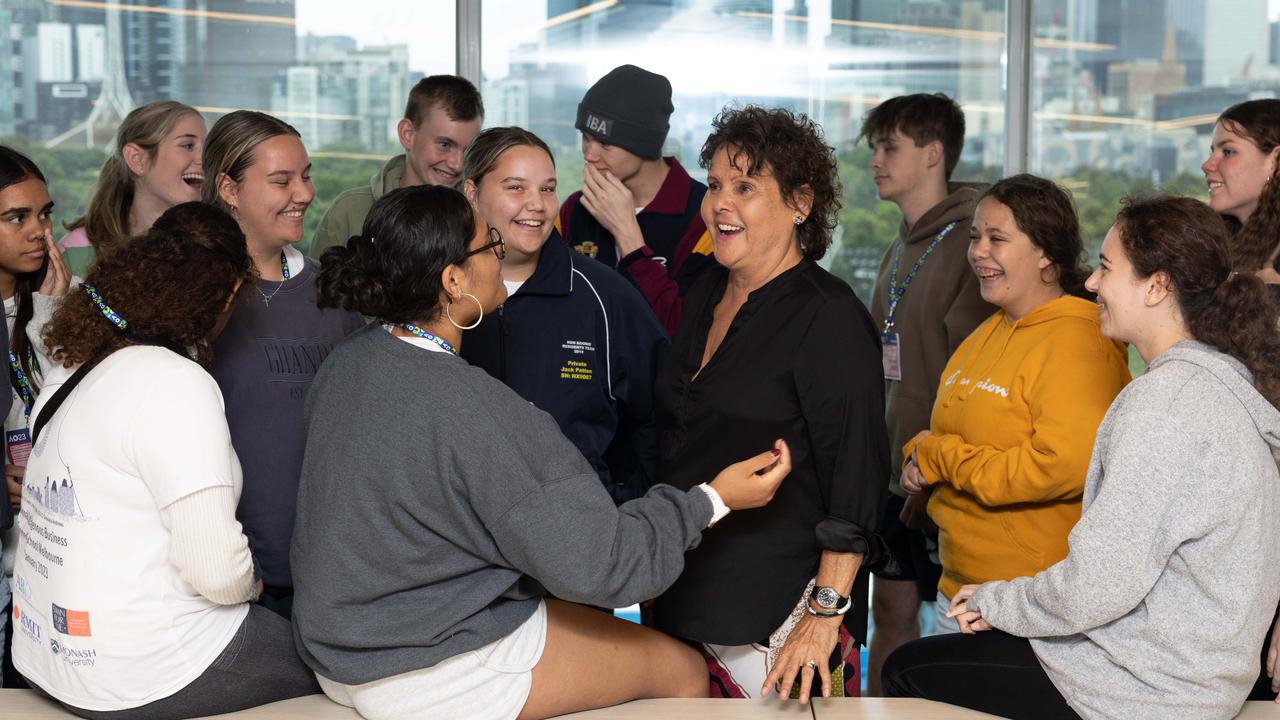 By CARLY DOUGLAS
9:58PM JANUARY 18, 2023
Australian tennis legend Evonne Goolagong Cawley had a heartening message for the future Indigenous businessmen and women who gathered at Melbourne's Tennis HQ to hear her speak on Wednesday.
"Whatever you do, have fun with it. Chase your dreams, find your dream … and follow it," she told the select group of year 11 and 12 students. "They do come true. I've proved it."
The students, who are participating in the National Indigenous Business Summer School program in Melbourne this week, heard of Goolagong Cawley's passion for education and her drive for success, beginning from the days she spent smacking tennis balls against a brick wall in the wheat town of Barellan in New South Wales.
She told them the local community had rallied behind her, raising the funds to send her to Sydney.
"The first time I went over the Sydney Harbour Bridge I was too scared and too shy," she said, telling students she had never seen a tea bag before when she arrived in Sydney.
Goolagong Cawley said she understood the power of education at an early age, sticking with school despite her early stardom.
"Education was very important for me. It's what got me through my whole career," she said. "My coach held me back. He made me finish high school."
The students have travelled to Melbourne from all corners of the country this week to experience university life and hear from Indigenous mentors, business leaders and academics.
As of 2020, only 1.2 per cent of all management and commerce students were Indigenous, despite Indigenous Australians making up 3.8 per cent of the population.
Between 2008 and 2019, the number of Indigenous university enrolments increased 121.6 per cent, rising from just 9490 students to 21,033, according to Universities Australia, most of whom chose to study education, health or the arts.
But University of Melbourne associate professor Michelle Evans, who specialises in the areas of Indigenous leadership and entrepreneurship, said introducing Indigenous students to business, commerce and entrepreneurship had never been more pressing.
"The fields might be non-­traditional for Aboriginal students … but the growth of the Indigenous economy is creating dozens of jobs for young professionals," she said.
The number of registered Indigenous businesses and corporations grew about 4 per cent per year between 2006 and 2018, she noted. "It gives these students the opportunity to make such a contribution to the Australian economy."
Professor Evans said while only "a trickle" of Indigenous students were headed for the business world at the moment, interest in programs like NIBSS, which has hand-picked more than 150 students since 2018, was growing.
Australian Business Deans Council president Keryn Chalmers said collaborations like this between Australian business schools gave Indigenous kids across the country the opportunity to learn the business fundamentals.
"Growing our Indigenous leaders, entrepreneurs and ­professionals makes for a prosperous Australia," Professor Chalmers said.
Australia's new generation of Indigenous students have been a key focus for Goolagong Cawley, who has run her foundation's National Development Camp for Indigenous boys and girls since 2005.

Yoast SEO
Toggle panel: Yoast SEO
Jupiter Page Options
Toggle panel: Jupiter Page Options
Jupiter Posts Options
Toggle panel: Jupiter Posts Options
| | |
| --- | --- |
| Single Post StylePlease choose a single post style. | Select OptionDefault (set in Theme Options)Traditional & CompactClear & Bold |
| Post FormatYou can set the post format using this option. | Select OptionImageVideoAudioPortfolioTwitterBlockquoteInstagram |
| Classic Loops Style OrientationThis option allows you to choose how the blog loop item be displayed. This option only applies to Classic style. | Select OptionLandscapePortrait |
| Featured ImageThis option will disable post featured image, video, audio and gallery (portfolio Post Format). | |
| Meta SectionUsing this option you can show/hide extra information about the blog or post, such as Author, Date Created, etc… | |
| TagsUsing this option you can Show/Hide tags in blogs. | |
| Related PostsIf you do not want to show related posts disable the post here | |
| About Author BoxDisable the about author box here | |
| Author EmailUsing this option you can turn on/off author email in about author box. | |
| CommentsEnable comments section for this post. | |
Jupiter Widget Options
Toggle panel: Jupiter Widget Options
| | |
| --- | --- |
| Footer Widget Area – First ColumnChoose which widget area you would like to show in this column for this post/page | Select OptionPage Widget AreaSingle Posts Widget AreaSingle Portfolios Widget AreaSingle News Widget AreaSearch Widget AreaArchive Widget Area404 Widget AreaWoocommerce Shop Widget AreaWoocommerce Single Widget AreaFirst Footer Widget AreaSecond Footer Widget AreaThird Footer Widget AreaFourth Footer Widget AreaFifth Footer Widget AreaSixth Footer Widget AreaSide Dashboard – Above NavigationSide Dashboard – Below Navigation |
| Footer Widget Area – Second ColumnChoose which widget area you would like to show in this column for this post/page | Select OptionPage Widget AreaSingle Posts Widget AreaSingle Portfolios Widget AreaSingle News Widget AreaSearch Widget AreaArchive Widget Area404 Widget AreaWoocommerce Shop Widget AreaWoocommerce Single Widget AreaFirst Footer Widget AreaSecond Footer Widget AreaThird Footer Widget AreaFourth Footer Widget AreaFifth Footer Widget AreaSixth Footer Widget AreaSide Dashboard – Above NavigationSide Dashboard – Below Navigation |
| Footer Widget Area – Third ColumnChoose which widget area you would like to show in this column for this post/page | Select OptionPage Widget AreaSingle Posts Widget AreaSingle Portfolios Widget AreaSingle News Widget AreaSearch Widget AreaArchive Widget Area404 Widget AreaWoocommerce Shop Widget AreaWoocommerce Single Widget AreaFirst Footer Widget AreaSecond Footer Widget AreaThird Footer Widget AreaFourth Footer Widget AreaFifth Footer Widget AreaSixth Footer Widget AreaSide Dashboard – Above NavigationSide Dashboard – Below Navigation |
| Footer Widget Area – Fourth ColumnChoose which widget area you would like to show in this column for this post/page | Select OptionPage Widget AreaSingle Posts Widget AreaSingle Portfolios Widget AreaSingle News Widget AreaSearch Widget AreaArchive Widget Area404 Widget AreaWoocommerce Shop Widget AreaWoocommerce Single Widget AreaFirst Footer Widget AreaSecond Footer Widget AreaThird Footer Widget AreaFourth Footer Widget AreaFifth Footer Widget AreaSixth Footer Widget AreaSide Dashboard – Above NavigationSide Dashboard – Below Navigation |
| Footer Widget Area – Fifth ColumnChoose which widget area you would like to show in this column for this post/page | Select OptionPage Widget AreaSingle Posts Widget AreaSingle Portfolios Widget AreaSingle News Widget AreaSearch Widget AreaArchive Widget Area404 Widget AreaWoocommerce Shop Widget AreaWoocommerce Single Widget AreaFirst Footer Widget AreaSecond Footer Widget AreaThird Footer Widget AreaFourth Footer Widget AreaFifth Footer Widget AreaSixth Footer Widget AreaSide Dashboard – Above NavigationSide Dashboard – Below Navigation |
| Footer Widget Area – Sixth ColumnChoose which widget area you would like to show in this column for this post/page | Select OptionPage Widget AreaSingle Posts Widget AreaSingle Portfolios Widget AreaSingle News Widget AreaSearch Widget AreaArchive Widget Area404 Widget AreaWoocommerce Shop Widget AreaWoocommerce Single Widget AreaFirst Footer Widget AreaSecond Footer Widget AreaThird Footer Widget AreaFourth Footer Widget AreaFifth Footer Widget AreaSixth Footer Widget AreaSide Dashboard – Above NavigationSide Dashboard – Below Navigation |
Jupiter Styling Options