Turning Up the Heat on Climate Action
Meet Associate Professor Melissa Edwards
Australia's business schools are boosting their focus on climate change by appointing a Climate Action Fellow to coordinate their actions nationally and liaise with industry, the not-for-profit sector and government.
This follows the recent ABDC Climate Action Declaration.
Listen to a podcast with Climate Action Fellow, Associate Professor Melissa Edwards, here.
What Can A Climate Action Fellow Do?
What Makes a Graduate Climate Literate?
Improving Communication and Connection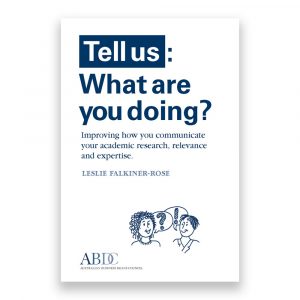 The ABDC has released a book with the aim of helping researchers, tertiary students, academics, and anyone else who wants to hone their skills, to maximise the reach and impact of their knowledge and work.
It includes practical tips, examples and candid comments from in-depth interviews with high-profile academics and journalists in Australian and international media.
Available as an e-book and paperback.
Communications Clips and Podcasts
The online launch of Tell Us: What are you doing? Improving how you communicate your academic research, relevance and expertise featured a panel session, moderated by UNSW Business School Dean, Professor Chris Styles.
A podcast of the 40-minute session can be found here.
Why Communicate Outside the Academy?
Yes, Media Engagement Isn't for Everyone
The Unlimited Market for Controversy
Welcome to the ABDC, the collective voice of Australian university business schools.
Our 38 members teach and research the areas vital to the success of the businesses that underpin Australia's economy.
As their peak body, ABDC's role is to ensure that those with political, social, cultural and economic influence appreciate and support how business education contributes to Australia's future.
Australian university business schools graduate 17% of all domestic students ­and 46% of the international students at Australian universities.
They continuously strive to shape graduates with the technical, life and leadership skills ­needed to innovate, adapt and flourish in a dynamic world.
Our international business students strengthen our global relationships and improve the cross-cultural understanding needed to widen our thinking to include diverse worldviews.
The fast growth of international education ­– the nation's third-largest service export – speaks to the high global standing of Australian business education.
ABDC President, Professor Keryn Chalmers, discusses the ABDC.